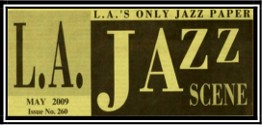 Joseph Pernicano
Evolving Paths
(Corano Records)
An excellent bassist who has been active in the Los Angeles area during the past decade, Joseph Pernicano emerges on his Evolving Paths CD as a talented arranger-composer too. While his sidemen are not that famous
(vibraphonist Harry Smallenburg is the best known), they are full of fire, creative ideas, and an understanding of Pernicano's music.

The nearly-70 minute program consists of seven originals by the leader. While Pernicano has some fine bass solos along the way, his main role is to set rhythmic patterns and accompany his excellent players.
Smallenburg, altoist Ian Vo, tenor-saxophonist Danny Moynahan and trombonist Stuart Hambley each display original voices in their solos and interplay with each other, guitarist Steve Creason and drummer Scott Sadlon form a tight rhythm section with the leader, and there is one strong appearance apiece by altoist Beth Schenck and tenor-saxophonist Matt Carroll.

While the melodies are generally not that singable, the rhythms are catchy, even when in 5/4 ("Evolving Paths") or 7/4 (the strutting "Double Enigma"). Whether it is the uptempo jazz waltz "Longer To Shorter" or
the funky but far from simplistic "Down For The Count," this is an inventive and high-quality set of modern jazz. Joseph Pernicano's impressive outing is recommended and available from www.josephpernicano.com.

Scott Yanow

Joseph Pernicano
Evolving Paths
Corano Records
www.josephpernicano.com

RATING: Four and 1⁄2 Stars of Five

With close to 70 minutes of pure jazz bass player Joseph Pernicano's solo album Evolving Paths lets the
instrument do the talking while the rest of the band add their excellent accompaniment.

The players are Harry Smallenburg (vibes), Scott Sadlon (drums),
Ian Vo (alto & soprano Sax), Beth Schenck (alto sax), Danny Moynahan (tenor sax), Matt Carroll (tenor sax),
Steve Creason (guitar), and Stuart Hambley (Trombone). While these fine musicians are not household names
they certainly stand up as a unit while executing definitively, falling in complete sync with the band leader.

The outstanding support that Pernicano receives is paramount to his success and it allows him to let the bass
standout as a lead instrument however he steps back to let everyone else be a star as well throughout the run of
this superb recording. Roger Cortes (Elton John, Herb Alpert, and David Sanborn) sits in the production chair
and his enormous talent and experience prove to be invaluable. The subtleties and color palettes of jazz reaches
its fruition, painting the musical canvas with a broad brush in every aspect. Thanks to all the contributors on
this project, Evolving Paths lives up to its name giving the listener seven tracks of contemporary jazz with a
strong foothold in the tradition and roots of the genre.

Joseph is a seasoned veteran paying his dues for years on L.A. jazz circuit. The artist states that the music is a
form of self expression and life experiences translated through the compositions which are directly related to
the immense respect he has for music.
After listening thoroughly to all seven tracks I have to admit that this CD was rock solid from top to bottom
and every track a monument to jazz. Any way you look at it Mr. Pernicano deserves the respect and admiration
of his peers and the jazz community as a whole for his accomplishments on Evolving Paths.

Keith "MuzikMan" Hannaleck